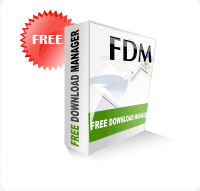 http://www.freedownloadmanager.org/
FDM之前虽然是免费的软件,现在变成了开源,并且不再显示广告了。
它的强大之处是:它不但但是一个下载程序。它的不但可以用来下载传统下载程序能够做的网站上文件的下载,还可以浏览下载ftp中的文件,可以下载分析整个网站,下载flash视频文件等等。
下面是它的网站上的内容:
Increase you download speed


Increase your download speed and resume broken downloads
FDM accelerates downloads by splitting files into sections and then downloading them simultaneously. As a result download speed increases up to 600%, or even more! FDM can also resume broken downloads so you needn`t start downloading from the beginning after casual interruption.



HTTP/FTP/BitTorrent support


FDM lets you download files and whole web sites from any remote server via HTTP, HTTPS and FTP.
You can also download files using BitTorrent protocol.


Flash video download


Download video from video sites, such as Youtube, Google Video, etc. The video can then be saved in native .flv format or converted to one of more popular video formats.



GNU General Public License


Free download manager is now open source software released under GNU GPL.



Enjoy easy file sharing


A built-in Upload Manager lets you upload your files easily to share them with other people. Upload manager can be easily integrated with your system (Windows Explorer, Internet Explorer, Outlook Express).

Enjoy safer and more rewarding downloading
You can read what other community members say about the file you are going to download, and also leave your own opinion about the file you downloaded. In this way FDM users are always warned against useless or malicious files.